HOTEL SACATON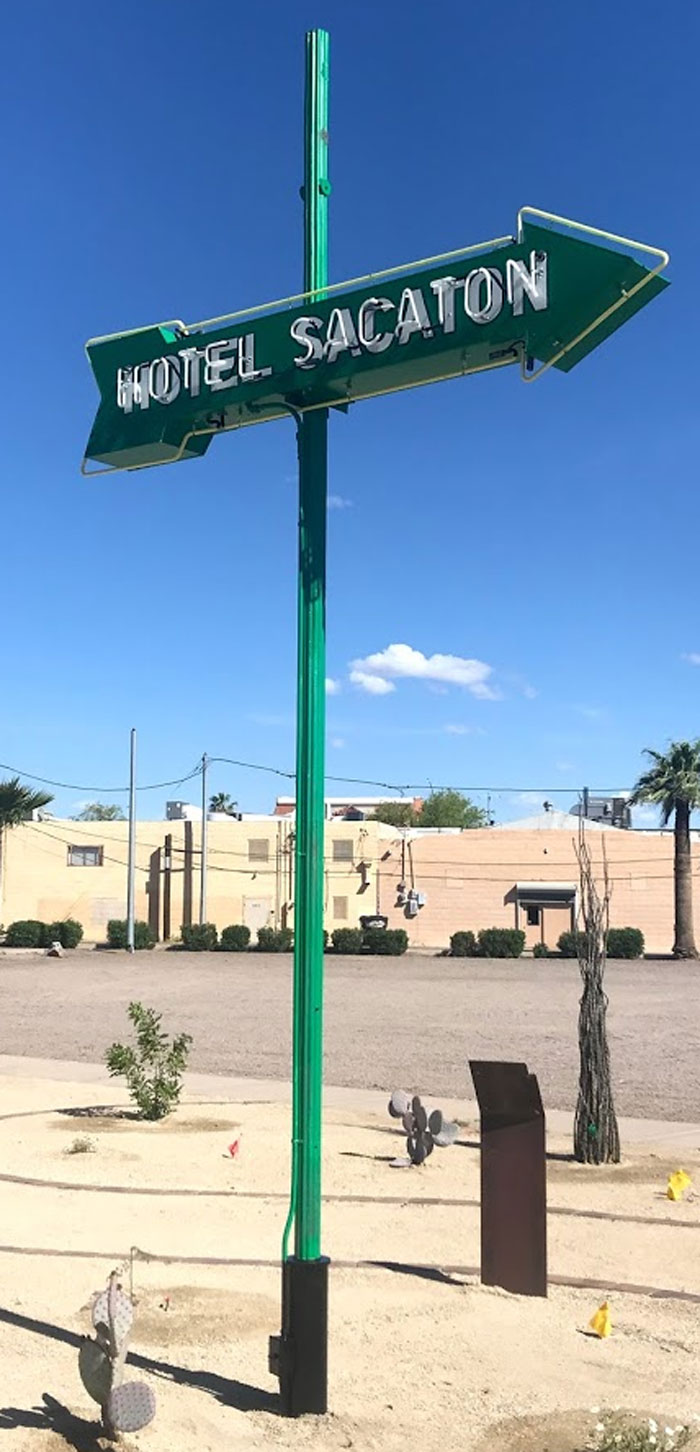 204 N. Sacaton St.
Just off Hwy. 84
Building Constructed 1917 • Sign Installed 1954
The two-story cast concrete Hotel Sacaton was built on land acquired from a man named Shonessy who accepted a team of horses from Holland M. Minear for payment. The hotel was operated by family members for many years. Minear's niece Esta Bayless, a nurse who came to Casa Grande in 1918, was very connected to the hotel. She married Earl Bayless of Casa Grande in 1921, and after his tragic death in 1929 she became the only woman in the state to hold an automotive dealership. From there she worked for San Carlos Irrigation, 15 years as Pinal County Recorder, traveled with Zonta International for a couple years and reopened the Hotel Sacaton in 1951 after an extensive remodel, which included the Perma-Stone façade seen today. This sign added after the 1951 remodel, was positioned on Hwy. 84 on the northwest corner of Sacaton and Second streets. Due to its location in the
right-of-way, at an undetermined point in time the sign and pole were removed and donated to The Museum of Casa Grande. A date on one of the transformers and a single action flasher were revealed during restoration.
Sign Donated By: The Museum of Casa Grande
Plaque Sponsor: Capital R Construction
Plaque & Pedestal Project: Casa Grande Historic Preservation Commission (HPC)
Casa Grande Neon Sign Park: A Partnership of Casa Grande Main Street, HPC and the Donovan Kramer Family, Casa Grande Valley Newspapers Inc.