COXON'S BUILDING MATERIALS, INC.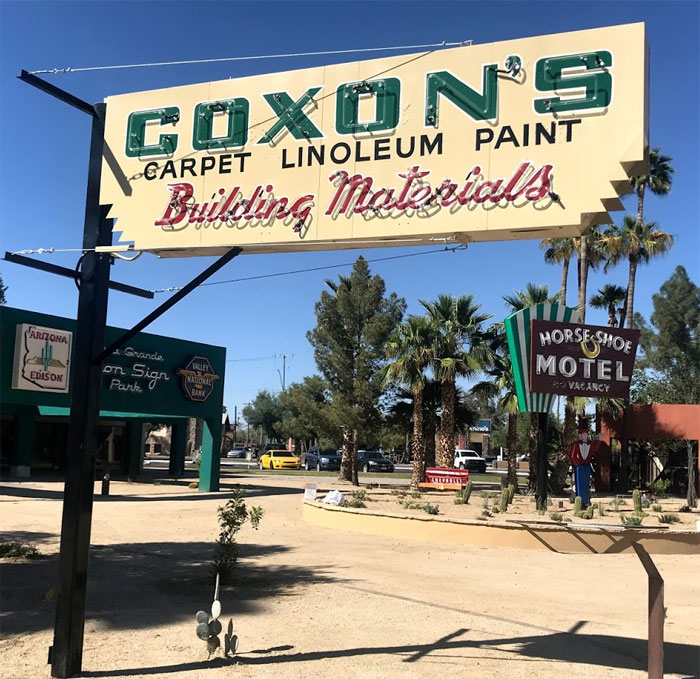 99 N. Sacaton St.

On Hwy. 84
First Building Constructed 1914 • Sign Installed c.1950
In 1914, the J.D. Halstead Lumber Company, based in Phoenix, AZ, relocated to their new lumber yard adjacent to the railroad tracks. In c.1941 both the lumber yard and store were acquired by O'Malley's Lumber Company, also based in Phoenix. Quentin Marion Coxon returned from the South Pacific after serving in the navy during WWII. He fought fires in Williams, AZ before becoming Casa Grande's first U.S. Mail carrier. In 1950, at the age of 24, he started Coxon's Building Materials at Five Points in Casa Grande. In 1967, the O'Malley Lumber Company sold to Mr. Coxon. The neon on the original O'Malley's sign was changed to read Coxon's Building Materials. Later it was covered with a newer Coxon sign. Since the quaint building, with its old-time charm, has offered the residents of Casa Grande flooring and hardware for more than 50 years, the sign has been restored as Coxon's Building Materials. Quentin Coxon handed over the reins in 1989 to his son, Brad and his wife, Cheryl, where they retain the hometown feel of their generational, family run business. There is a 100-year-old building on the property with the only monitor-roofed structure in Casa Grande. This location has served Casa Grande for over a century with continuous businesses.
Sign Donated By: Brad and Cheryl Coxon
Plaque Sponsor: Brad and Cheryl Coxon
Plaque & Pedestal Project: Casa GrandeHistoric Preservation Commission (HPC)
Casa Grande Neon Sign Park: A Partnership of Casa Grande Main Street, HPC and the Donovan Kramer Family, Casa Grande Valley Newspapers Inc.