GODDARD SHOE STORE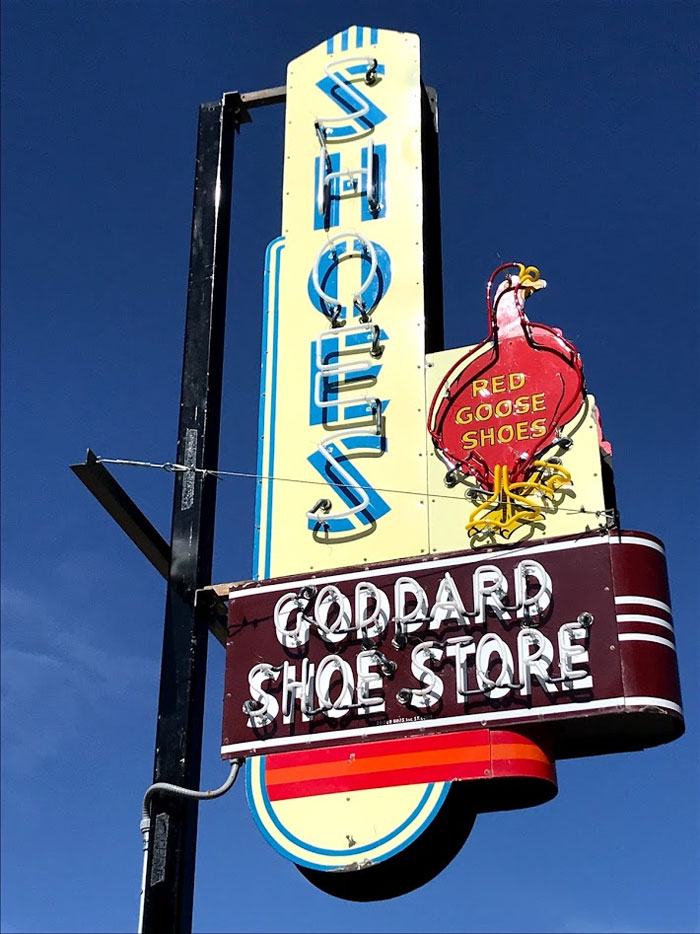 123 N. Florence St. Just off Hwy. 84
Building Constructed 1945 • Sign Installed 1945
The Goddard Shoe Store was operated originally by Ray Goddard in Casa Grande from 1945 to 1950, where they specialized in Red Goose Shoes. The large, porcelain enamel sign was produced by the Zeiser Brothers Sign Co. in St. Louis, MO. The art deco period piece was well known in Casa Grande, especially the whimsical red goose with its ochre-colored feet. Beginning in 1951, Charles and Ona Green owned and operated the store sporadically over the next decade. In their eighth year of operation, they changed the name from Goddard's to Green's Shoe Store. Under the new arrangement, the Greens offered a general line of men's and women's footwear, but specialized particularly in children's shoes, still featuring Red Goose Shoes. In 2006 the owner of the building, Irwin Krugel, donated the sign to Casa Grande Main Street. The old goose lived on the campus of The Museum of Casa Grande covered in gray paint for nearly a decade. After many hours of cleaning, it was displayed in their barn. Before, during and afterward, the red goose at the base of the large sign is still a mystery, as speculation swirls around its missing head. Nobody seems to know how he met his demise and we may be doomed to never know. However, a new goose head was constructed during the sign's restoration process to recreate the sign to its original vintage glory.
Sign Donated By: Casa Grande Main Street
Plaque Sponsor: Gene and Linda Irvin
Plaque & Pedestal Project: Casa Grande Historic Preservation Commission (HPC)
Casa Grande Neon Sign Park: A Partnership of Casa Grande Main Street, HPC and the Donovan Kramer Family, Casa Grande Valley Newspapers Inc.