CASA GRANDE PHOTO SHOP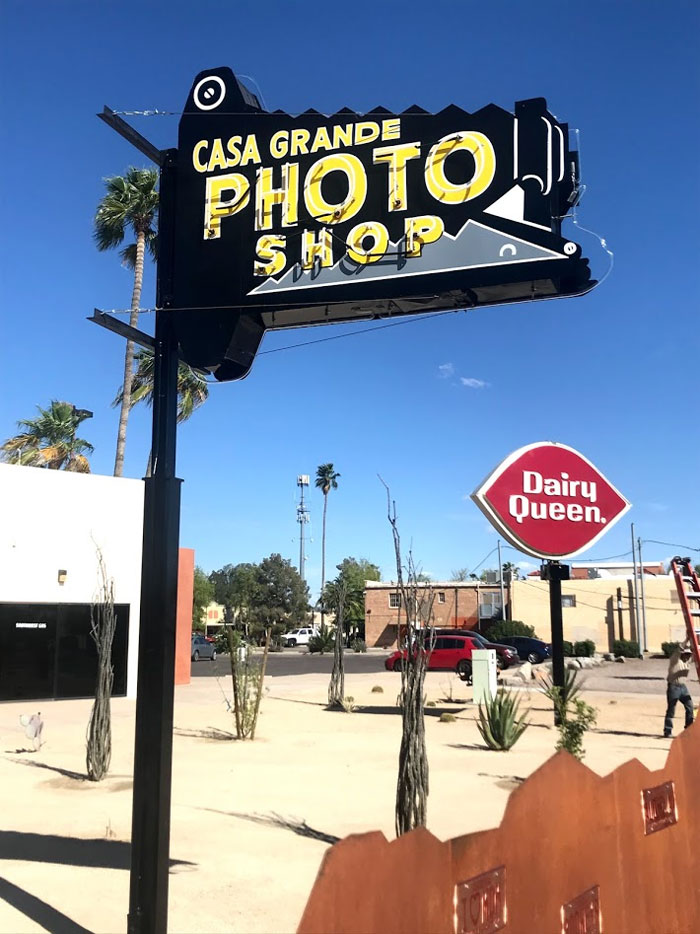 201 W. 2nd St. On Hwy. 84
Building Constructed 1950 • Sign Installed c.1950
Represented here are two important memories in Casa Grande history. Jim Gorraiz, was a celebrated photographer and owner of the Casa Grande Photo Shop, as well as this iconic neon camera sign above his business that took a journey after Gorraiz died in 1990. In addition to routine photography services, Gorraiz produced land development aerials, freelance photos for the Casa Grande Dispatch newspaper for years, conducted photo clubs and provided workshops demonstrating the use of photographic equipment. His photo collection is at The Museum of Casa Grande and currently a Gorraiz Book Project is underway and will provide a historical mid-century portrait of Arizona. When the Photo Shop closed in 1990, the sign was acquired by Marvin Carlton, who grew up in Casa Grande with fond memories of purchasing his first camera from Gorraiz. The sign then travelled to Phoenix and was displayed in his business, Carlton's photographic Inc., for over two decades as photography evolved. In early 2016, Marvin and Lynne Carlton were planning to move and felt inspired to return the vintage sign to The Museum in honor of his mother, Mickey Carlton, who loved history and the museum dearly.
Sign Donated By: Marvin and Lynne Carlton Family and
The Museum of Casa Grande
Plaque Sponsor: Keith T. Carlton Family in loving memory of their Mother, Mickey Carlton
Plaque & Pedestal Project: Casa Grande Historic Preservation Commission (HPC)
Casa Grande Neon Sign Park: A Partnership of Casa Grande Main Street, HPC and the Donovan Kramer Family, Casa Grande Valley Newspapers Inc.