VALLEY NATIONAL BANK (VNB)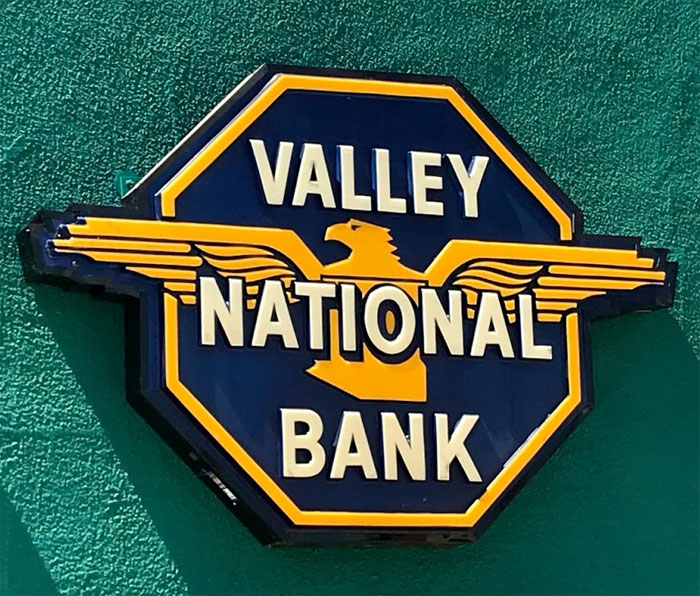 221 N. Florence St. On Hwy. 84
Building Constructed 1950 • Sign Installed 1950
Valley National Bank of Arizona was originally based in Phoenix, Arizona, founded in 1900 and acquired by Bank One in 1992 and Chase Bank in 2004. The bank was one of Arizona's leading financial institutions during the 20th century and the last major independent bank in Arizona at the time of its acquisition by Bank One.VNB was the first to locate in smaller cities in Arizona. They first opened in Casa Grande at 59 N. Florence St. in 1934. In 1950 they built a new bank at Florence Street and Second Street. In 1952 Second Street was designated as Hwy. 84 through the downtown, rather than Main Street. In 1955 Casa Grande was the first branch outside of Phoenix to receive the new spread eagle designed sign for the building's exterior. The sign with 800 feet of neon has been gone for almost three decades. Nancy Wofford, 37 years employed by VNB, remembers that in about 1973 when our country was having an energy crisis, the bank sent someone to each branch to look for ways to save energy and one was to turn off the 800 feet of neon. It was never relit again. The restored sign you see today was displayed over the night deposit box. After the merger it was moved inside the building before it was donated to The Museum of Casa Grande.
Sign Donated By: The Museum of Casa Grande
Plaque Sponsor: Greg Serrano
Plaque & Pedestal Project: Casa Grande Historic Preservation Commission (HPC)
Casa Grande Neon Sign Park: A Partnership of Casa Grande Main Street, HPC and the Donovan Kramer Family, Casa Grande Valley Newspapers Inc.