Ralph's Cafe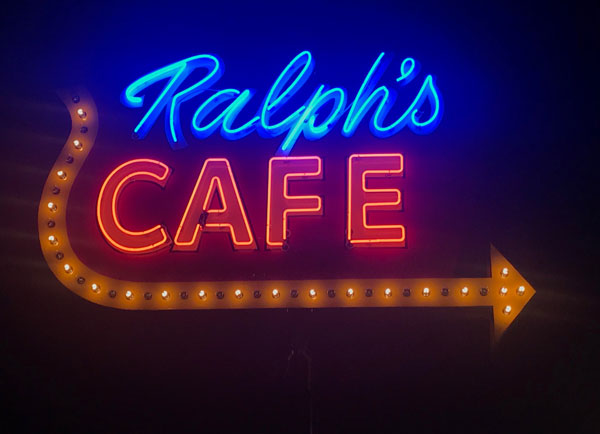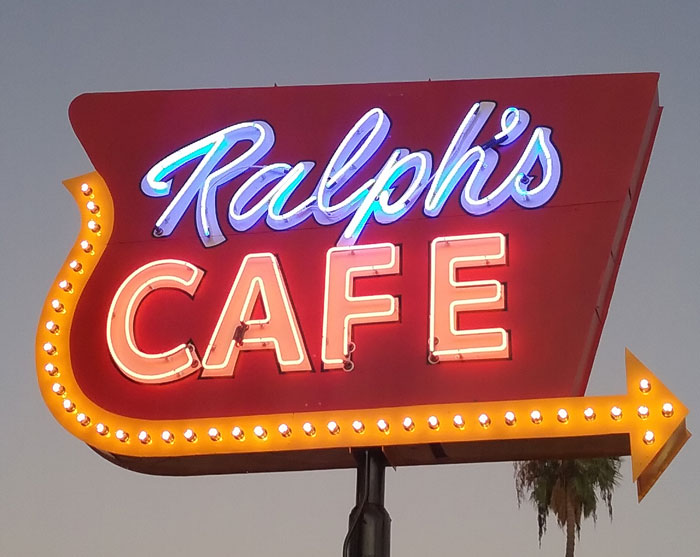 1174 E. Main St.(Currently Jimmie Kerr Blvd) On Hwy. 84
Building Constructed 1948 • Sign Installed 1956
R.F. "Ralph" Honeycutt was a long-time resident of the Casa Grande Valley, where he farmed at various locations from 1936 to 1952. He opened Casa Grande's first truck stop with a café in 1952 on Hwy. 84, the old Tucson Highway. The 24-hour service café specialized in golden brown fried chicken and a complete line of steaks. Ralph's friends, Gene Lehman and John Cress, encouraged him to get a sign, which was designed and manufactured in Phoenix, to showcase his truck stop
and café. The bright chaser lights along the side and bottom of the directional arrow have been missing and the sign was painted over for a good many years. The restored sign was state of the art in 1956. This sign earned local landmark sign eligibility during the 2016 Casa Grande
sign survey, if it remained in place. The Ballard family offered the sign to the Neon Sign Park for restoration and for the enjoyment of the community.
Sign Donated By: The Ballard Family
Plaque Sponsor: Marge Jantz
Plaque & Pedestal Project: Casa Grande Historic Preservation Commission (HPC)
Casa Grande Neon Sign Park: A Partnership of Casa Grande Main Street, HPC and the Donovan Kramer Family, Casa Grande Valley Newspapers Inc.